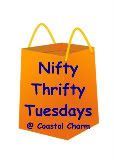 I haven't done
The Thrift Shop Tour
for awhile, as I've been just a tad busy lately with long hours at work. But last weekend Tom and I went to one of our favorite stores --
Value World
-- and I found something absolutely priceless: a generous serving bowl.
Now, this is not just any ol' bowl -- this was originally from
Williams-Sonoma
. Yes, indeedy, I found a bowl that would normally have cost about $100 just sitting on a shelf at the resale shop.
It admittedly has a very fine 2-3" crack along one side; both Tom and Jeremy pointed it out to me as though it were a fatal flaw ... men! They see damage, I see fabulous deal. Because you'll never guess what I paid for this bowl --
$20?
Nope.
$10?
Nope. Lower.
$8.50?
Uh uh. Lower.
$5???
Keep going.
I give up -- you couldn't possibly have gotten it for so little!
$2.87
. That's right --
less than $3
for a huge, beautiful serving bowl! Just look how perfect it was when I made pasta a few nights later:
God, I love thrift shops!!!